Taking hours to install the wig and brush the baby hair is a very laborious task for beginners. Today we want to introduce girls some wigs that are very suitable for novices. It doesn't take a lot of time and energy, but you can get an unparalleled looking.
V part wigs
What's v part wig?
V part wig is also called thin part wig or v-shape wig. V part wigs are the latest celebrity wig trend. It allows you to style your own hair togeher with the wig. Nobody gonna know you are wearing a wig. No glue or gel needed & 0 skill. Beginner can put and take off everyday. Protect your own hairline and your skin. Super easy to wear.
 How to install v part wig?
Reshine hair v part wig have 8 combs inside the wig. 2 at each side of the part design. And one comb at right side and left side. One at the back of the wig. Firs you can braid your own hair. Leave out a piece of hair. Brush the baby hair out. Fix the combs at right position. Make the leave out hair match curly properly. You don't need to apply any gule on the wig during the whole process.
U part wigs
The difference between u part wig and v part wig
U part wigs have bigger leave out size than v part wig.you need to pull out a larger section of your hair, it can offer a more natural-looking finish.u part wigs are better for people who have good hair. V part wig is better than a u part wig for those people who have thin or fine hair.
Headband wigs
What's headband wig?
Headband wig is a wig that comes with headband attached in front together with hair weft. Headband wigs are prefect choice to protect your natural hair.headband wig is a kind of none lace human hair wig. Reshine hair headband wig is made by 100% human hair and good quality headband.every headband wig has two combs at side to make sure fixed on your head well.
How to install headband wig?
You don't need to in use gule or gel to install a headband wig. Comb all your hair in the cap. Brush your baby hair as you like. Put the headband wig on and adjust the position. Chose a headband you like and install it. Headband wig is good for those who don't want to spend too much time on installing hair. The wig is enough strong. You don't need to worry about hair fall down.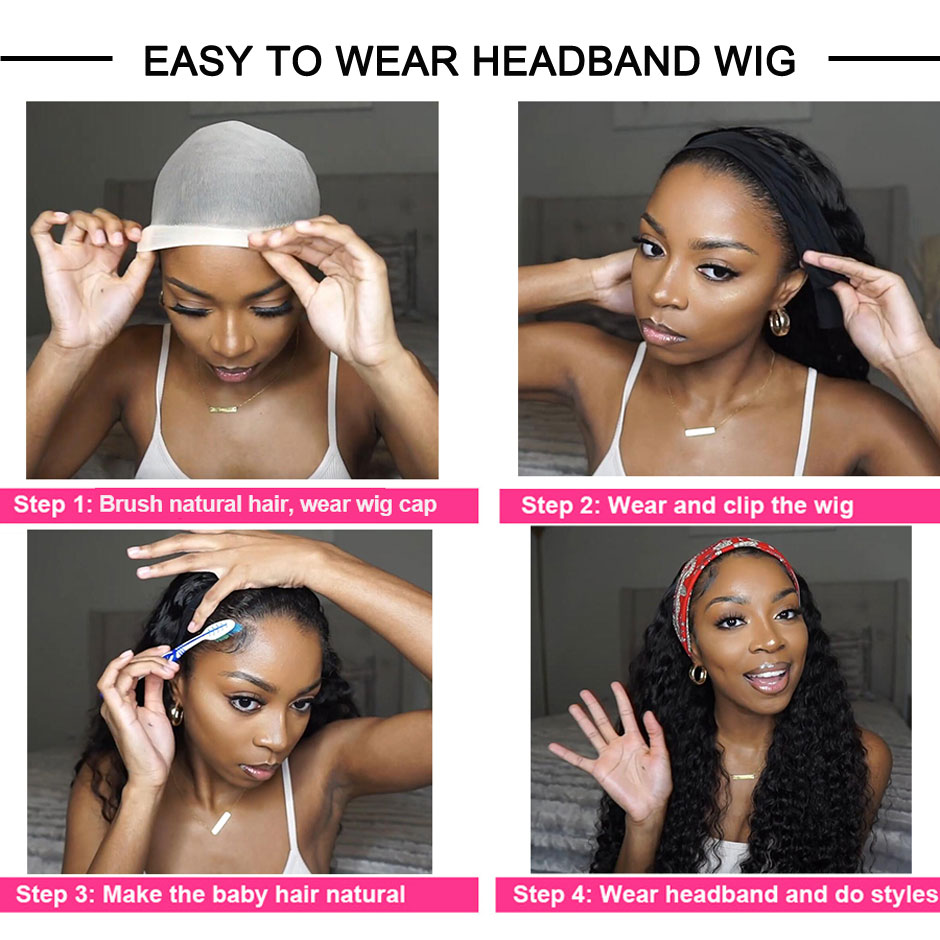 Tips for beginners
Please treat the wig as your own hair. Don't comb the hair heavily when it tangle.
The hair life depends on the way you treat the hair. Deep conditioner the hair is necessary one or twice a week.
Don't bleach the lace when you are not skilled at install a wig.